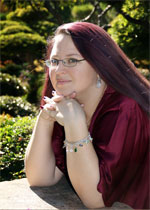 Hi! I'm Amy Crook, and I've been designing stuff people actually like since 1996.
As an artist, my philosophy is that beautiful things have meaning and value in and of themselves.
As a designer with over 15 years of experience, I know that the function has to come first, but I also bring an artist's love of beauty into everything I do. I find that when coupled with a good user interface, attractive design makes the user's experience of your website or product memorably better.
I also keep up my fine art practice, blogging images nigh-daily over at Antemortem Arts. I'm constantly expanding my skill set for design and illustration both, exploring the next way to bring beauty into the world.
You and I might be a great fit if:
You're a woman who owns her own small business, or are a solo entrepreneur — especially if you're just starting out
You're fun, creative, maybe a little geeky, and want your personal style to shine through in everything you do
You know PDFs, you love virtual proofs, and email is your friend
You understand the value of creative expertise
You don't want 8am meetings (wink, wink)
If you're looking for a designer with an artist's eye and a professional's experience, then you've come to the right place.

I work with a small stable of steady clients, and only add a few people a year to that list. I try to stay mindful of my capacity and creativity so each client gets the best of me.
If you think you've got a project that fits, whether it's a spot illustration or a whole website, drop me an email and we'll get started on a quote.